Not too long ago Milwaukee introduced a whole new line of M12 Fuel drills and impacts that feature the latest in brushless tool technology. If you want the most power from a sub-compact tool, these are it. But Milwaukee has not forgotten about their M12 (brushed) line of tools and has recently announced six new products that will either replace existing models or will add to the lineup.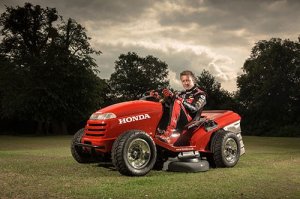 Is there any practical reason for building a riding mower that can travel at 130MPH? Probably not, but that didn't stop Honda from teaming up with their British Touring Car Championship (BTCC) partner, Team Dynamics, to do it anyway. And as unpractical as it is, it can still cut grass.
Not wanting to let their 12V users be alone in the joy of having music on the jobsite, Bosch has come out with a similarly designed 18V portable jobsite radio. Unlike their previous 18V radio, Bosch slimmed down the size of the new PB180 so that it can fit inside an L-BOXX-2 tool case.
Inventor Ed Adkins has come out with what he has named the Centipede Sawhorse, but there is one problem, though it seems to be able to do all the things a sawhorse is capable of doing, it looks nothing like a sawhorse. But who says a sawhorse has to look like a horse?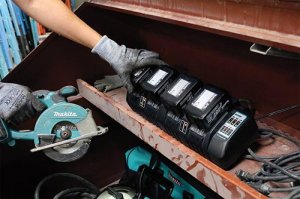 If you are tired of having to watch your charger to know when it is time to put in the next battery, Makita has a new charger for you. Over the long holiday weekend Makita announced their new 18V Lithium-ion Rapid Optimum 4-Port charger. The new model DC18SF also happens to be Energy Star rated for efficiency.
Back in May, when writing about the introduction of the Makita 36-volt cordless chainsaw, I commented that I would personally like to see a cordless string trimmer. Well, guess what turned up on Makita's website of Friday? The Makita LXRU02Z 18-volt cordless string trimmer.
With most CNC routers you have to bring the material to the machine, but the new Handibot CNC Router has you bring the CNC router to your material. Is this going to be the gateway to getting CNC routers on the jobsite?
Over the past few years a video of an amazing water repellent called NeverWet has been circulating around the internet gathering millions of view. Not only could a NeverWet treated shirt keep the rain out, but even chocolate syrup was no match against treated white canvas sneakers. Everyone who watched the video instantly wanted the product. Years later, the consumer version is finally available.
If you have ever had to move sheets of plywood or drywall, you know it is not the easiest thing to do. Manly men might say they can do it by themselves, but what happens when they need to go through a doorway? Too tall to fit, huh? JHandles thinks their product offers a better way to move sheet goods—but are you manly enough to give it a try?
We all need to use bit tips on the jobsite, and probably more than one type. To make sure you are covered, DeWALT has come out with three new 31-piece bit sets that meet the needs of three different trade types. They also housed them in a new smaller Tough Case so you know they will stay organized even if they spend their days riding around in the back of a pickup.