Chris   August 23, 2013  
1
1
Just because we are used to scissors being able to do only one thing—cut, it doesn't mean we have to be stuck with scissors that can do only one thing. Smart Sizzors can do more than one thing, that's why they are called smart. But do you even want scissors that offer more?
Chris   August 19, 2013  
0
2
3D printing technology sure has come a long way in these last few years. Something that wasn't even well known, is now not only known, but is at the point where it can actually be used to make production items. The NRG3 Roller Socket Wrench was prototyped using 3D Metal Printing and they plan on using 3D technology in production units.
Chris   August 08, 2013  
0
1
Many home woodworkers dream of having a full-size cabinet saw in their garage converted workshop, but how many garages are wired to meet the 230V demand that most cabinet saws require? Enter the new Powermatic PM1000, a true cabinet-saw that requires only a standard 115V outlet.
Chris   August 07, 2013  
1
0
I spend quite a bit of time on the internet searching for new or interesting tools to share, but I can't find them all. Thankfully Tool-Rank has readers that also send in their finds. Yesterday a tipster sent in a link to a unique tool that turns your table saw into a lathe of sorts.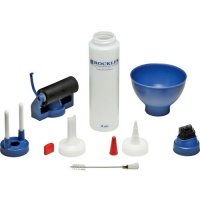 Chris   August 06, 2013  
0
8
If you do a lot of work with wood, you might find that your glue bottle gets used just as much as your other tools. So in an effort to make the task of gluing as easy as possible for every application, Rockler has come out with a new Glue Bottle Applicator Kit. Rockler even found a way to make a silicone brush into an attachment.
Chris   August 02, 2013  
0
2
DeWalt has announced their first entry into oscillating tools with their corded 3.0-amp model DWE315K. Some might DeWalt is late into the game, but others might say they have been taking their time to ensure they come out with the best product. The new DWE315K does seem to have some new features that are not being offered anywhere else.
Chris   August 01, 2013  
2
0
The Festool Carvex Jigsaw was first introduced to North America back in March of 2011. It had a ton of really nice features, but the feature that caught my attention was the LED strobe light that could visually freeze the movement of the jigsaw blade. Sadly, about a month after it was announced, Festool pulled the Carvex and sent out a letter stating "...Late round testing in certain applications specific to North America has demonstrated that the current design does not meet the exacting standards that we demand of ourselves, and that our customers have come to expect..." ...
DeWalt has just announced that they will be bringing a line of four heated jackets to the market this September. After the success of heated jackets from their competitor, they were sure to be getting requests from their users to offer a similar product. They would be fools not to deliver.
During their media event back in June, Milwaukee announced that they would be expanding their heated gear line with new M12 Heated Hoodies, M12 Heated hand Warmers, and finally a M12 heated Jacket for Women. And while these do not officially go on sale until August, you can reserve yours now with a pre-order.
I have always looked at the Festool MFT (Multi-Function Table) as great little work table, but not practical for jobsite use. I just never liked the idea of having to carry it around on the jobsite along with all of my other tools. But Timothy Wilmots' modified MFTC (Multi-Function Tool Cart) looks like an ideal way to transport both the MFT and your tools.