Chris   December 04, 2013  
1
1
Since many of us already use our toolboxes as make-shift worktables, Festool went ahead and built a miniature worktable right into the top of a SYS-1 sized Systainer. With it, you can be sure to always have a workbench to go along with the rest of your tools.
Chris   October 30, 2013  
1
1
Bosch is taking laser measuring to the next level with the introduction of their GLM 100 C Laser Distance Measure, available next month. Not only is it packed with measuring and storage features, but it can sync with iOS and Anrdoid devices to extend its functionality.
Chris   October 15, 2013  
0
1
If you have had your eye on the CNC Shark system from Rockler Woodworking and Hardware, now might be the perfect time to make that purchase. Rockler has come out with a new Limited Edition Black Diamond version of their largest CNC Shark model that comes with some nice extras, such as surface mapping. Best of all, it is on sale for the same price as the Shark HD V2.0
Chris   October 14, 2013  
1
3
You know what it's like to get calls from telemarketer's trying to sell you everything from life insurance to carpet cleaning products, and all you can do is wonder how your name got on their list? Well, that is what my email inbox looks like, and that is just emails about new Kickstarter projects. And while many of the projects that are seeking funding are cool, most would not fit into the Tool category. But every once in a while I get an email about a new product, it falls into the tool category, and it is not lame;...
Chris   October 07, 2013  
0
3
If you liked the form and function of the original Milwaukee Fastback Utility Knife or the recently updated and improved Fastback II Utility Knife, you might also be interested in the new line of Fastback Pocket Knives.
Chris   October 02, 2013  
1
1
Rockler Woodworking and Hardware has come out with a new product that I think is pure genius; and this genius comes in the form of a new electric router fence that can be programmed to make cutting box joints, dadoes, and dovetails a breeze.
Chris   September 27, 2013  
0
2
Oscillating tools are getting better and cheaper as the years go by, as is evidence by the new Dremel MM30 Multi-Max, which delivers 14% more cutting speed over the previous model (MM20) and it's expected to retail for only $99.
Chris   September 23, 2013  
0
5
For the most part Rockler caters their stores and their tools to people who work in shop environments, and their own products are no different. Rockler has come out with a new line of tool pouches and aprons that have been designed to meet the different needs of those working in a shop, including the ability to use them off the belt.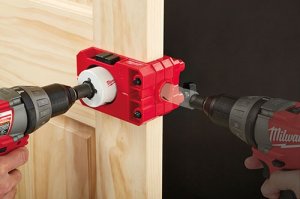 Chris   September 11, 2013  
0
1
Milwaukee has come out with a new Door Lock installation kit that makes it easy to drill the holes you need to install door hardware. The drill guide easily adjusts and self-centers to fit 1-3/8" to 1-3/4" door thicknesses and adjusts to 2-3/8" or 2-3/4" backsets.
Chris   September 08, 2013  
0
5
Bosch has announced that the new Click & Go L-Rack system is now available at authorized retailers. The L-Rack is the newest component to the Click & Go L-BOXX system and is the only component to offer modular drawer functionality.