Bosch 18 Volt Litheon Brute Tough Hammer Drill Driver - 17618-01
Hot
https://www.tool-rank.com/media/listing/photos/thumbnail/300x300s/20/2f/a7/232_Bch18HD_1220821741.jpg
Chris September 07, 2008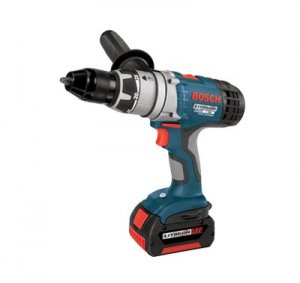 Includes:
2 - 18V Litheon™ FatPack Batteries - BAT618
1 - 30-minute Litheon™ Battery Charger - BC630
1 - Magnetic Bit Holder
1 - Philips Drive Bit
1 - Auxiliary Handle
1 - Carrying Case
2X Battery Life
Up to 350 RPM faster than competition
High torque mode produces over 650 in.-lbs.
High speed mode produces 2,050 RPM, up to 30,750 BPM
Durashield™ Housing & unibody powertrain provide optimum reinforcement to withstand real world conditions
BoschLitheon™ Batteries - State-of-art Lithium-ion battery technologycoupled with Bosch's proprietary ECP (Electronic Cell Protection)system guarantees the optimal performance of tool and batteries evenfor tough work conditions.
Bosch Litheon™ Batteries - Designed for maximum cyclelife, minimum self-discharge and not memory effect
1/2" Metal Chuck for increased durability
High Strength Metal Collar enhances tool durability and protection when dropped on the chuck
Newly Designed Powertrain and Gears increases tool life and durability
LED Light is great for dark or enclosed areas
Ergonomic two-tone soft grip handle - For extended comfort and control
25 Position Clutch
Variable speed trigger for complete control
User reviews
There are no user reviews for this listing.