Rockler Black Friday 2016 Sneak Peak
https://www.tool-rank.com/media/listing/photos/thumbnail/300x300s/06/f0/b8/Rockler20Black20Friday202016-21-1478150729.png
Chris   November 02, 2016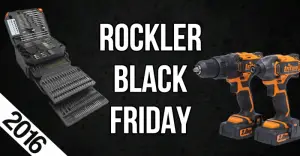 Rockler is giving us a sneak peak at some of the deals they will be offering for Black Friday 2016.
Some of the deals include 30% off all Rockler router bits, saving on Rockler's Universal small-port dust collection hose, A Triton cordless Drill and Impact Driver kit for $150, and more. This is just a first look at some of the deals rocker will be offering and we will be on the lookout for more.
Check out the flyer below.
User reviews
There are no user reviews for this listing.