Archived Deals
DeWalt 192 Pc. Mechanic's Tool Set (DWMT75049) $149 @ Farm & Fleet
DeWalt 192 Pc. Mechanic's Tool Set (DWMT75049) $149 @ Farm & Fleet
https://www.tool-rank.com/media/listing/photos/thumbnail/300x300s/97/f6/26/71l2BhRmA-xL-SL1000--43-1489273922.jpg
Chris   March 11, 2017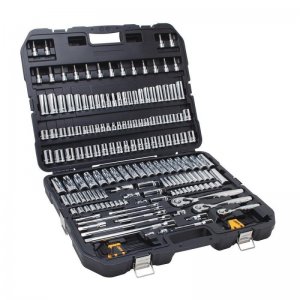 Blain's Farm & Fleet has the DWMT75049 DeWalt 192 Pc. Mechanic's Tool Set on sale for $149. The regular price for this set is $199, though it is typically sold for $209 on Amazon.
This set seems to be well received with a rating of 4.7 out of 5 stars on Amazon.
It features a 72 Tooth gear system that offers high torque ratcheting. In addition, the deep laser etched markings make it easy to identify different socket sizes. There is a 5-degree arc swing and slim head design equipped in this DEWALT Mechanics Tools Set that allows easy maneuverability in cramped areas.
User comments
There are no user comments for this listing.