20% Off Coupon for Bosch Impact Drill Bits
https://www.tool-rank.com/media/listing/photos/thumbnail/300x300s/78/fa/db/20-percent-off-drill-bits-46-1478720194.png
Chris   November 09, 2016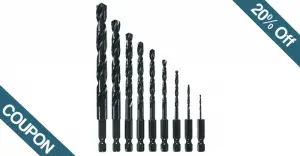 Amazon has a 20% off coupon for a selection of Bosch Impact Drill Bits. The coupon is be applied during checkout and is not reflected in the listed price for the product. There is no indication as to when the coupon is set to expire.
These bits have been specifically designed to handle the torque delivered by Impact Drvers and to not break under load.
User comments
There are no user comments for this listing.