2 results - showing 1 - 2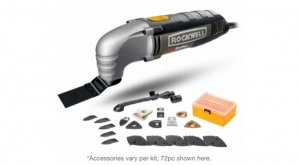 Sanders
Chris   December 17, 2009  
2
1
Giving you the ability to sand, polish, scrape, and cut a wide variety of materials, the Rockwell RK5102K Sonicrafter Deluxe 72-piece Kit is your all-in-one tool kit for carpentry work. Enhanced by 71 accessories, the variable-speed tool operates with microsonic high-frequency oscillation to produce smooth, safe movements without kickback. Ideal on the job site or around the house, this efficient tool boasts a slim body that makes it ideal for working in confined spaces.
Work Stations
Chris   March 02, 2009  
0
1
The strong and versatile Jawhorse replaces your workbenches, your sawhorses, your clamps, your bench vises and so much more. With the Jawhorse you get a second set of hands for all your projects. You'll save time, you'll work safer and you'll save yourself from hassle!
2 results - showing 1 - 2